Whether it's muscle toning you want, less fat around the midsection, or to tighten up loose skin, read on for our recommendations on the best non-invasive body sculpting options on the market.
Emsculpt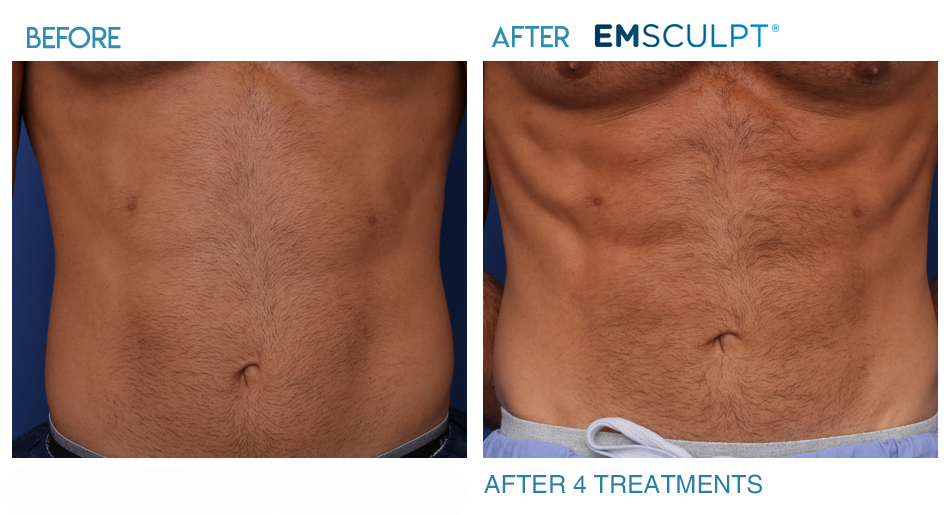 For this year's breakout leader in non-invasive and painless body sculpting, look no further than Emsculpt. The procedure builds muscle, burns fat, and lifts buttocks all without picking up a scalpel or a single anesthesic drug. You lie down as the machine delivers 20,000 supramaximal contractions to the targeted area in just four 30-minute sessions spread out over two weeks. After the treatment, you can resume normal activities immediately, and the only clue you will have that the procedure occurred is a slight soreness in the treated area similar to the effects of an intense workout.
Who is it ideal for? The best candidates for Emsculpt are generally healthy patients with pockets of stubborn fat that resist diet and exercise. Emsculpt works for both men and women and comes with no side effects.
CoolSculpting
CoolSculpting pioneered the way for non-invasive fat reduction thanks to its ability to freeze and destroy fat cells without surgery. The technical name for CoolSculpting is actually cryolipolysis, a scientific way of saying it

freezes fat, leading to fat cell death. The experts at CoolSculpting spent years developing the treatment, which features one-of-a-kind technology that quite literally freezes and kills 20-26% of fat cells in the treated area in one 35 minute session. The applicator is simply placed on the area you'd like treated and attaches via suction to the pocket of targeted fat. You can have the treatment repeated until you reach your desired result or pair it with another body sculpting procedure based on your cosmetic goals. Results typically take a few months to appear, with results beginning to become noticeable around week four. The best part? You have a finite number of fat cells, and once they're destroyed they can never return so the results of CoolSculpting are permanent if the patient maintains a healthy diet and exercise following the procedure.
Who is it ideal for? The best candidates for CoolSculpting are patients with pockets of stubborn subcutaneous fat that aren't affected by diet and exercise. CoolSculpting works for both men and women.

Kybella

Kybella was created with the intention of permanently destroying submental fat (also known as the dreaded double chin) by using deoxycholic acid to cause fat cell death. Kybella is administered through a series of injections directly into the chin and jowl area, leaving a noticeable reduction in fat and contoured jawline within six weeks. The cells will die and your body will naturally expel them during the six week period, after which you can evaluate if further treatment is desired to remove more fat from the area. During that period of healing, your collagen production will increase and skin will tighten up as well. And although Kybella was initially created as an alternative to surgical liposuction for the chin, it is also being used on smaller areas of fat throughout the body, namely the "bra bulge" area.
Who is it ideal for? Anyone with a double chin or unwanted bra fat. While it is true that more fat will require more vials, it will depend entirely on your cosmetic goals and a series may be suggested during your consultation.
"Non surgical fat reduction and skin tightening are both safe and effective on the face and body. The abdominal laxity and those small pockets of fat that many of us have experienced after having kids can achieve benefit through a combination of these treatments."
-Dr. Supriya Tomar

Ultherapy

Wondering if you could use a slight lift in your face, but unsure if you need an actual surgical facelift? That's where Ultherapy comes in. Ultherapy® is designed to lift and tone the skin on the neck, eyebrow area, and underneath the chin and provides the perfect option for patients that are beginning to notice a slight drop in their facial structure but are too young for surgery. It is the only nonsurgical facelift of its type that has been approved by the FDA. This procedure works by using ultrasonic waves to lift and tighten the skin. These waves also help to stimulate new collagen growth so the elasticity of your skin will continue to improve over time. Ultherapy provides a much more cost-effective alternative to surgical lifts, and touch ups can be repeated as often as necessary. And as your skin's collagen production increases, your results will appear more natural and subtle and your skin will appear not only lifted, but smoother, healthier, and more fresh.
Who is it ideal for? Patients in need of a lift in the brow, neck, jaw, decollete, and face who are trying to avoid the cost, recovery, and risks of surgery—or are too young for surgical lifts.

Profound
Profound® is a thermal energy-based facial treatment that dramatically improves laxity in aging facial and neck skin. This non-surgical facelift procedure uses thermally regulated and fractionated radiofrequency controlled needles, which are inserted into the patient's problem areas to induce lifting and tightening of the skin. Unlike other non-surgical facelift procedures, such as Ultherapy®, Profound® not only tightens and lifts lax skin, but it also produces hyaluronic acid, collagen and elastin to add much-needed volume to thin areas of aging skin. The
Profound® device was manufactured by one of the leading brands in laser cosmetics, Syneron Candela®, and this cutting-edge device represents a revolutionary development in non-surgical facelift techniques and procedures. Profound® is an outpatient procedure performed under local anesthesia, and it does not involve surgical incisions. Profound® has one of the highest satisfaction rates among non-surgical facelift and non-surgical skin tightening patients for its ability to dramatically improve aging skin with consistent results. And while it was initially intended for facelifts, patients have also had success using Profound on sagging abdominal skin and for slight butt lifts. Profound is also FDA-approved to treat cellulite.
Who is it ideal for? Patients in need of a subtle and natural lift in the neck, jaw, arms, abdomen, above the knees, or in areas of cellulite who are trying to avoid the cost, recovery, and risks of surgery.